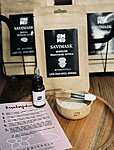 €30.00
Contains green French clay powder mixture (50g), peach kernel face oil (10ml), brush and bamboo bowl for mixing.

Divided into 7-10 times.

DESCRIPTION:
Natural ultra-fine pink French clay is a mixture of red and white clay. Pink French clay is softer and gentler than other clays, which works well with normal, sensitive and aging skin. The clay is enriched with aloe vera and silky oat powder, which deeply soothe and moisturize the skin.

Face oil
Scent description: peach-lemongrass

100% natural cold-pressed peach kernel oil and jojoba oil are easily absorbed and moisturizing oils that do not leave the skin greasy. Peach kernel oil is rich in beneficial fatty acids, especially oleic acid (Omega 9) and linoleic acid (Omega 6), as well as naturally occurring vitamin E, which is known as a powerful antioxidant.
Pink clay is an effective skin cleanser that removes dead skin cells and gives the skin a pleasant freshness.



USE:

Mix 1-2 teaspoons of full powder in a non-metallic container with room temperature water until a uniform mass is formed
Add 4-8 drops of face oil
Apply the mask mixture to the face with a spatula or brush
Leave on for 10 minutes
Rinse your face with warm water
NB! Facial redness after using a clay mask is normal. It should not become painful and the redness will disappear within half an hour.
The clay mask draws blood to the surface of the skin and supplies the skin with oxygen and minerals!

STORAGE:
Keep dry and avoid direct sunlight.

ALLERGENS:
To avoid allergic reactions, test the product on a small amount of skin. Please familiarize yourself
before making a purchase, also with the ingredients and, if necessary, consult a doctor.