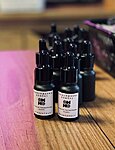 €10.00
INCI: Simmondsia Chinensis (Jojoba) seed oil, Prunus Persica (peach kernel oil), Vitamin E, Parfum.

Scent description: peach-lemongrass

100% natural cold-pressed peach kernel oil and jojoba oil are easily absorbed and moisturizing oils that do not leave the skin greasy. Peach kernel oil is rich in beneficial fatty acids, especially oleic acid (Omega 9) and linoleic acid (Omega 6), as well as naturally occurring vitamin E, which is known as a powerful antioxidant.


How to use?

1. Wash your face with warm water to open the pores and prepare the skin.

2. Gently dry the facial skin and, if necessary, moisturize the skin with your usual facial cream. PS! If you go out in the sun, don't forget to add sunscreen (SPF).

3. Add 3-4 drops of facial oil to clean hands, rub the oil between your hands a few times to make the oil warmer, and apply to the face in circular motions.

4. If the oil is completely absorbed and does not leave the facial skin greasy, then there is no need to rinse the face with lukewarm water. Otherwise, we recommend gently rinsing your face with water after 10 minutes so that excess oil does not remain on your face throughout the day. The absorption of the oil depends on the type of facial skin.

NB! The facial oil is also ideal as an addition to our clay masks. Add 5-8 drops to the finished mask mixture and mix carefully so that the oil is evenly distributed on the face.