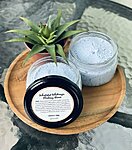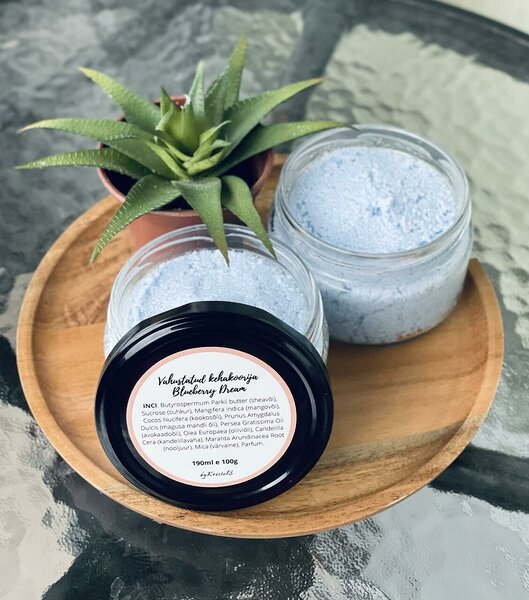 BodyScrub - Blueberry Dream
INCI: Sucrose (Sugar), Butyrospermum Parkii Butter (Shea Butter), Mangifera Indica (Mango Butter), Cocos Nucifera (Coconut Oil), Prunus Amygdalus Dulcis (Sweet Almond Oil), Simmondsia Chinensis (Jojoba) Seed Oil, Candelilla Cera (Candelilla Wax), Mica (dye), Parfum.

Scent description: imagine the smell of a summer forest, sweet blueberries and muffins made by grandma - that's exactly how surreal this scent combo is!

200ML e 120g (net weight)
30ML e 10g (net weight)

USE
Use on damp skin by gently massaging in circular motions. The body scrub contains very
high-quality oils and moisturizes properly
skin. After the shower, gently rinse off the sugar and, if necessary, the excess cream. After rinsing off most of the sugar, the butter left on the skin is also suitable for shaving. The skin remains divinely silky afterwards.

STORAGE

The consistency of body scrubs changes according to temperature. In a warmer environment, the butter softens. Although the product may therefore lose its commercial appearance, the moisturizing properties of the product will still remain the same. Butter hardens in the refrigerator, so it is recommended to store it at room temperature (around 21-22 °C).

Tip: prefer a spatula when applying the cream to the skin, so that bacteria does not get into the cream.

The shelf life of the body scrub is about 6-8 months.

Body scrubs are made by hand and you always get a freshly made product. Delivery time is 3-5 working days.

ALLERGENS
Body scrubs contain ingredients derived from nuts. To avoid allergic reactions, test the product on a small amount of skin. Please also read the ingredients before making a purchase.


NB! The products look appetizing, but they are not meant to be eaten.